Liquidation sale-everything must go!
75% OFF ALL REGULAR RETAIL PRICES, 25% OFF ALL VALUE PRICES, AND 25% OFF ALL INTERNET PRICES...
We have lost our lease and must liquidate everything. Our loss is your gain, so don't miss your chance on some amazing deals. Our Showroom Stylist's have hand picked their favorite price reductions for you now. Come in to shop these collections and more of our discounted furniture and accessories. Find everything you need for your home from some of your favorite brands, all at a great discount.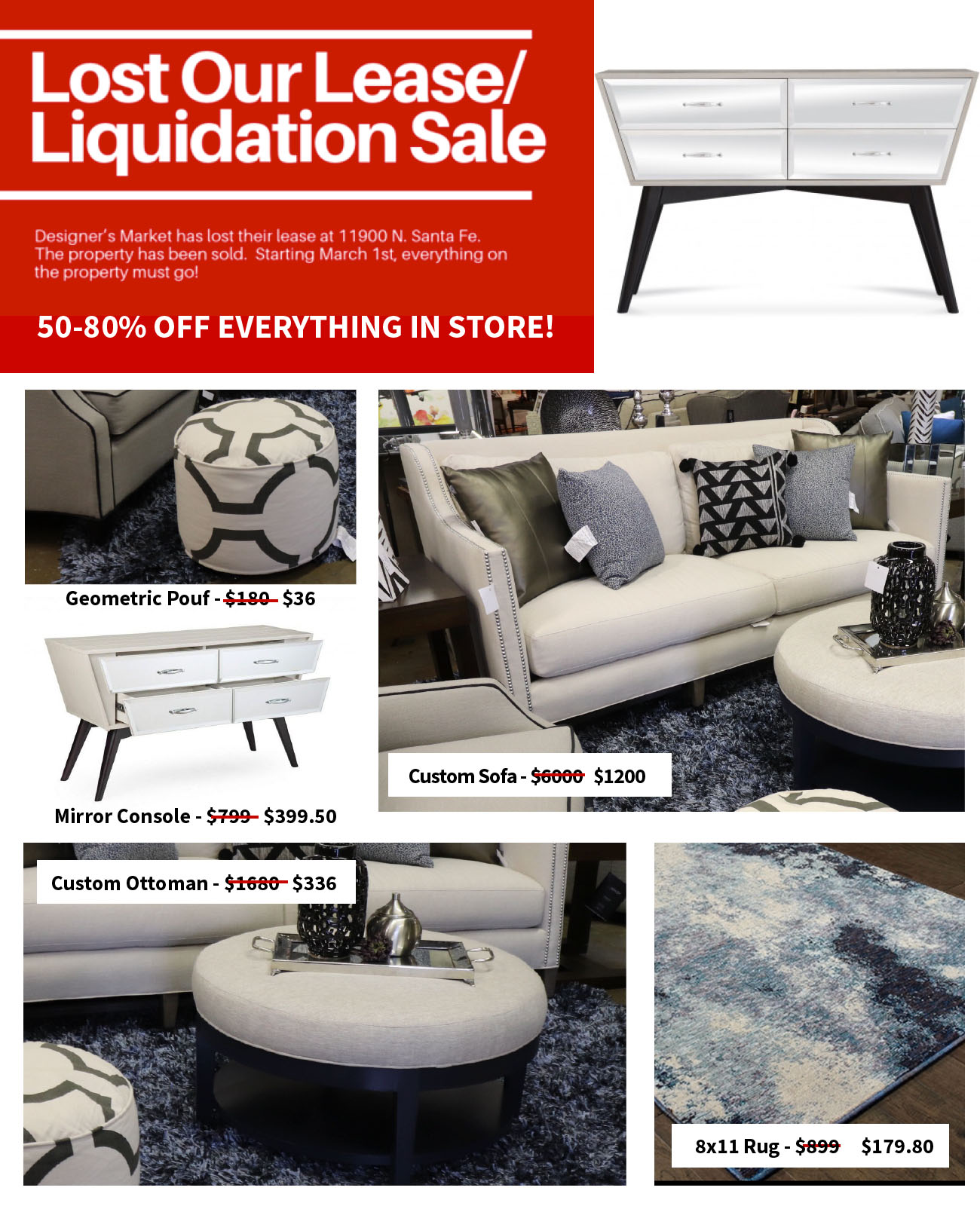 SALE TERMS:
ALL SALES ARE FINAL NO RETURNS WILL BE ALLOWED FOR ANY REASON CASH, CREDIT CARD, or DEBIT CARD ACCEPTED No Personal Checks ALL PURCHASED MERCHANDISE MUST BE REMOVED WITHIN 48 HOURS DESIGNER's MARKET WILL NOT BE OFFERING DELIVERY SERVICES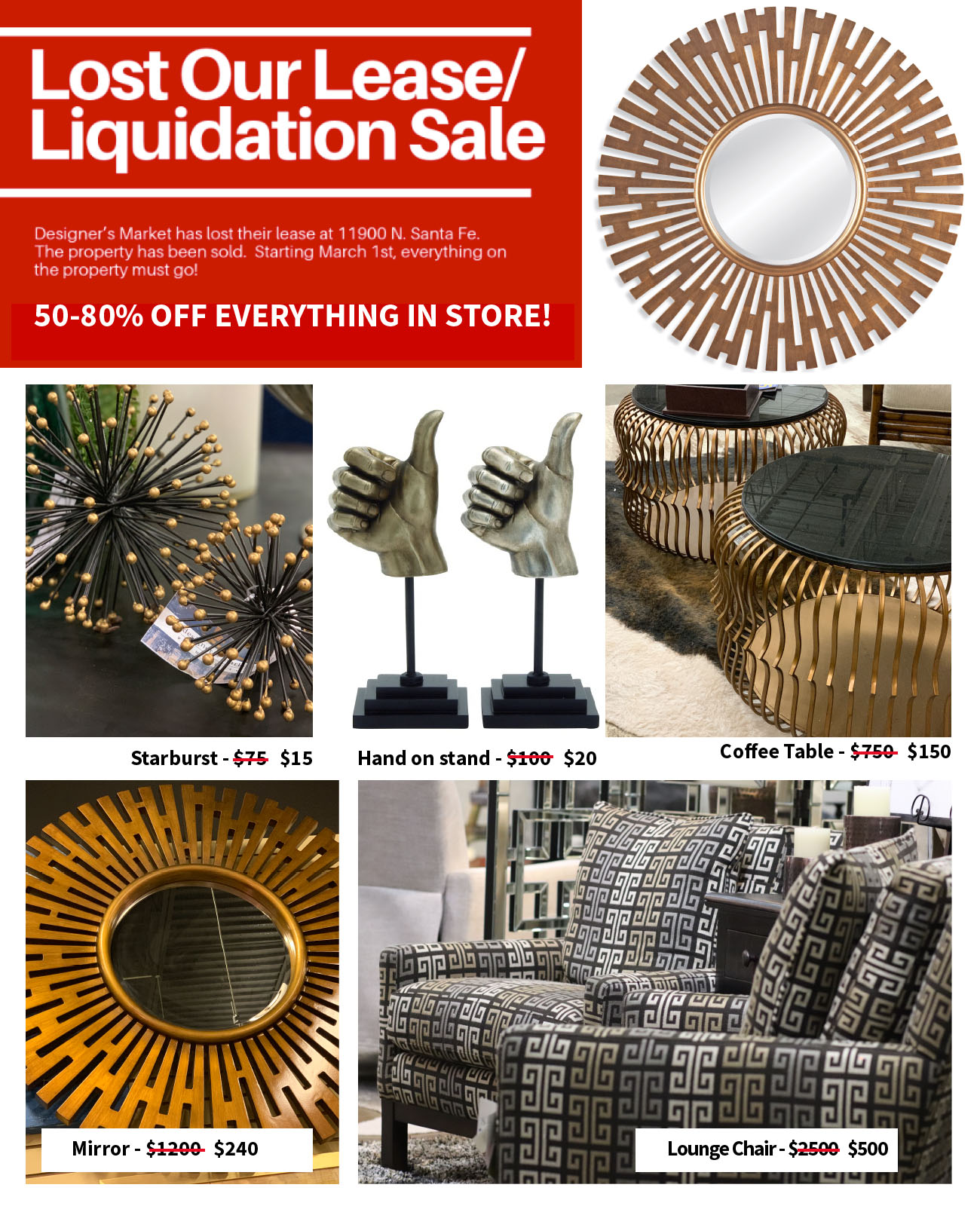 SALE TERMS:
ALL SALES ARE FINAL NO RETURNS WILL BE ALLOWED FOR ANY REASON CASH, CREDIT CARD, or DEBIT CARD ACCEPTED No Personal Checks ALL PURCHASED MERCHANDISE MUST BE REMOVED WITHIN 48 HOURS DESIGNER's MARKET WILL NOT BE OFFERING DELIVERY SERVICES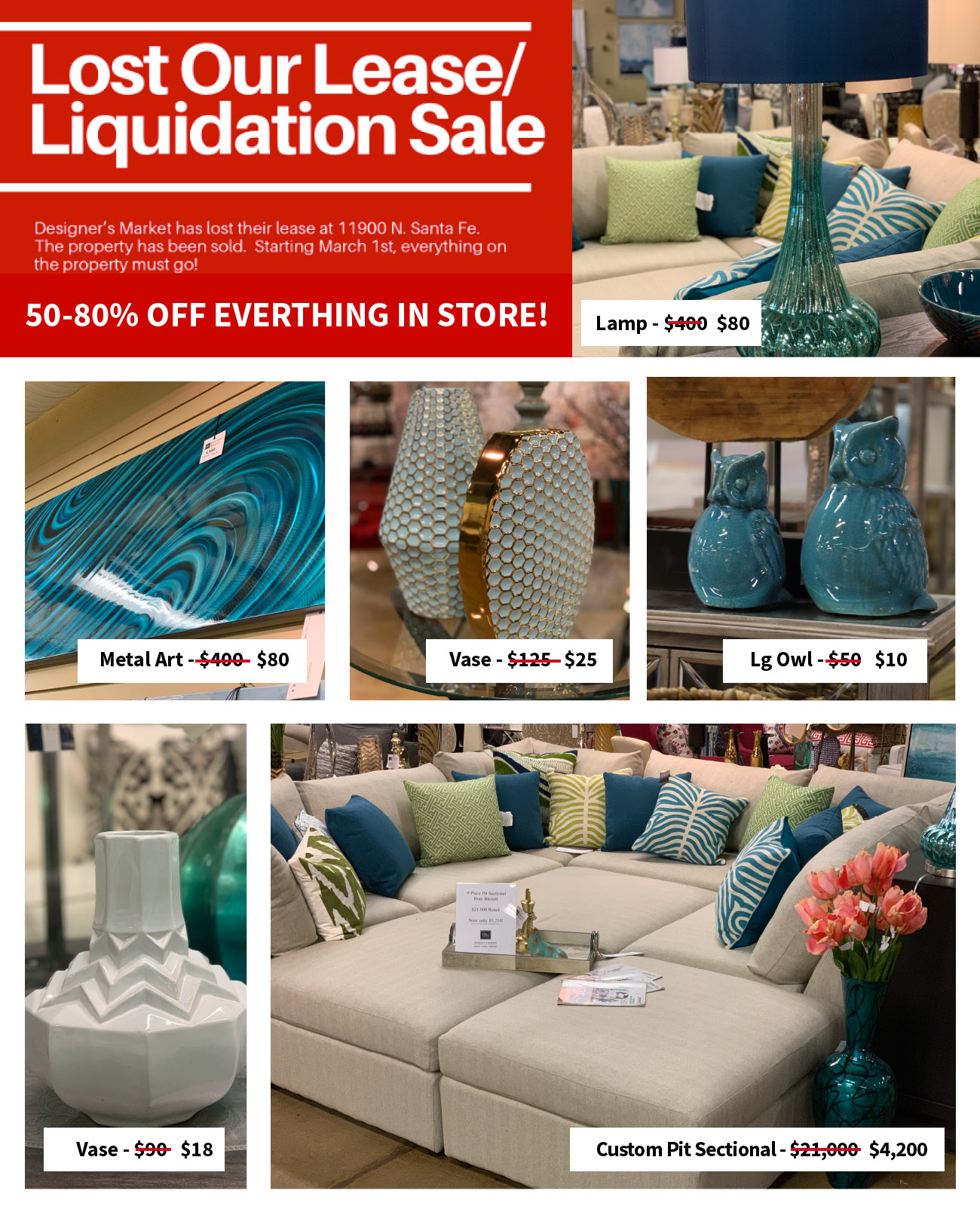 SALE TERMS:
ALL SALES ARE FINAL NO RETURNS WILL BE ALLOWED FOR ANY REASON CASH, CREDIT CARD, or DEBIT CARD ACCEPTED No Personal Checks ALL PURCHASED MERCHANDISE MUST BE REMOVED WITHIN 48 HOURS DESIGNER's MARKET WILL NOT BE OFFERING DELIVERY SERVICES
SALE TERMS:
ALL SALES ARE FINAL NO RETURNS WILL BE ALLOWED FOR ANY REASON CASH, CREDIT CARD, or DEBIT CARD ACCEPTED No Personal Checks ALL PURCHASED MERCHANDISE MUST BE REMOVED WITHIN 48 HOURS DESIGNER's MARKET WILL NOT BE OFFERING DELIVERY SERVICES
SALE TERMS:
ALL SALES ARE FINAL NO RETURNS WILL BE ALLOWED FOR ANY REASON CASH, CREDIT CARD, or DEBIT CARD ACCEPTED No Personal Checks ALL PURCHASED MERCHANDISE MUST BE REMOVED WITHIN 48 HOURS DESIGNER's MARKET WILL NOT BE OFFERING DELIVERY SERVICES
SALE TERMS:
ALL SALES ARE FINAL NO RETURNS WILL BE ALLOWED FOR ANY REASON CASH, CREDIT CARD, or DEBIT CARD ACCEPTED No Personal Checks ALL PURCHASED MERCHANDISE MUST BE REMOVED WITHIN 48 HOURS DESIGNER's MARKET WILL NOT BE OFFERING DELIVERY SERVICES
SALE TERMS:
ALL SALES ARE FINAL NO RETURNS WILL BE ALLOWED FOR ANY REASON CASH, CREDIT CARD, or DEBIT CARD ACCEPTED No Personal Checks ALL PURCHASED MERCHANDISE MUST BE REMOVED WITHIN 48 HOURS DESIGNER's MARKET WILL NOT BE OFFERING DELIVERY SERVICES
SALE TERMS:
ALL SALES ARE FINAL NO RETURNS WILL BE ALLOWED FOR ANY REASON CASH, CREDIT CARD, or DEBIT CARD ACCEPTED No Personal Checks ALL PURCHASED MERCHANDISE MUST BE REMOVED WITHIN 48 HOURS DESIGNER's MARKET WILL NOT BE OFFERING DELIVERY SERVICES